SnatchBot expands: opens new Ramat Gan office
SnatchBot Team, 05/01/2020
SnatchBot expands: opens new Ramat Gan office
With the 2020s destined to be the age of the chatbot, SnatchBot have hired new staff to meet demand that was already surging strongly at the end of 2019. Our platform has a free-to-use option that has brought into existence a community of 70,000 users since our launch in July 2017, with over a thousand new users joining us weekly (welcome if you are one of these). Many users are taking out our ProPlan, mainly in order to white label their chatbots for commercial use without the SnatchBot branding, but also for the ticketed support, advanced analytics and a growing number of exclusive ProPlan features.
Alongside our rapid growth in users who build their own chatbots a growing number of businesses, from small restaurant and dental practices to billion-dollar enterprises, have drawn on our bot-building expertise to have us create and service their chatbots. To cope with this accelerating demand, the Dublin office has grown: Kim Hickey has been promoted to SVP Technology Sales to lead on our communications with clients requesting bespoke builds, while KP Williams has joined the chatbot-building team to help deliver smart chatbot solutions to every vertical.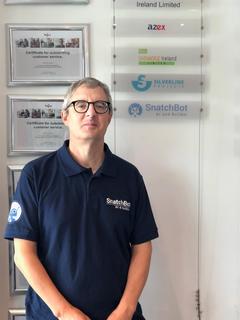 It's from our Dublin base that we handle all the incoming requests for builds and respond to the dozens of queries that arrive every day via SnatchBot's own onboarding chatbot, Lexi. Our headquarters in Israel has been just as busy and two months ago we moved to a larger and more modern office at the Gibor Sport Tower in the Diamond Exchange District in Ramat Gan (SnatchBot, Beith Gibor Sport, 7 Menachem Begin, Ramat Gan, Israel). Our vision for our headquarters is one where internal meeting space and private rooms for periods of intense and demanding work can merge in an environment that allows employees to cross paths in a welcoming, comfortable and creative space. It's here we carry out our R&D and anticipate the future of AI, RPA and conversational software. Don't worry if you've been using our Hertzelya address (8 Abba Eban Blvd, 46120 Hertzelya Pituach) we have retained that address for mail.
And last, but not least, our Russian offices at 82 Observatornaya Str., Rostov-on-Don, 344000 Russia have been just as busy implementing new features for the platform, many of them driven by user demand. New channels are always in demand for a true omnichannel chatbot and we have started the new year by adding Africa's Talking. Another popular feature we recently implemented was the ability of the user to share images with the chatbot in those channels that allow it.
Text-to-speech and speech-to-text are clearly the future of conversation interactions between people and software. Obviously, this technology is doing wonders for the visually impaired, but everyone stands to benefit from a hands-free option to utilise their chatbots. This year our Russian specialists added speech-to-text and underwent a comprehensive upgrade of our text-to-speech voices. If you haven't tried them recently, you'll be amazed.
Whether you are just starting with chatbots, or an enterprise implementing them heavily to carry a serious workload, we hope you are enjoying the power and ease-of-use of our platform and hope our expanded team will assist you in having a very successful 2020.